Morbihan's Cités d'Art
Pontivy
Hennebont
Auray
Vannes
Josselin
Port-Louis
Rochefort
La Gacilly...
St Gildas Chapel
.21 June Music Festival
.13 July/14 July Differents
'Sound and light show'
.19/21 July to Carhaix
Festival 'Vieilles Charrues'
.2/11 August to Lorient
'Festival Interceltique'
www.festival-Interceltique.com
Land of country folk, renowned for the quality and originality of its rural heritage, land of seafarers, including one-third of the French coastline, Brittany Is also a region with strong urban traditions, a region rich in Cités d'Art.
St Nicolas des Eaux is a pretty village tucked along the banks of the river'Le Blavet'
Saint Nicolas invites you to step outside of time beside a river full of fish that snakes its way through spaces of magic and legend. On the walker's path, if you are lucky you will see herons and kingfishers near the water.St Nicolas is well known to anglers who willingly cohabit with walkers along the towpath and those who rent pedalos or canoes from 'La Base Nautique'(an introduction or advanced courses to white water or calm water canoeing)
The karting center is 4kms only from the gites.
At Rimaison (8 minutes drive away) you will discover an undulating golf course, which apart from its countryside, offers panoramic views of the Blavet Valley.
There are two restaurants where a variety of tempting Breton cuisine is available and a creperie. Why not stop and taste a traditionally made crepe...
5 minutes drive brings you to the market town of Plumeliau where you can find supermarkets, banks, post office, and petrol station service...
(Bread at St Nicolas every day)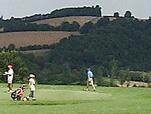 Short break in 'Blavet Valley'
Each summer, since 1992 'L'art dans les chapelles' has invited artists to show their work and let them converse with the rich and exceptionally diverse religious patrimony of the region, Artists of great renown along with yet to be discovered artists, 'inhabit' the chapels mostly dating from the XVth and XVIth century and situated within a few kilometres of each other. An invitation to discover contemporary artistic works and to discover our patrimony.
Pontivy(18 kms)
Pontivy, town of contrasts once know as 'Napoleon ville' includes a medieval town of narrow winding streets lined with timbered houses and a castle that is a fine example of Brittany's military architecture. The Napoleonic district built on the orders of the Emperor himself has wide thoroughfares with picturesque names set at right angles to each other.
The coast
You can reach the coast and explore the pretty beaches, bays, the striking cliffs of the 'côte sauvage' and the beautiful inland sea of the 'Golfe du Morbihan'. Visit Port-Louis (35 mn) with its old port and lovely beach...
Saint Nicolas des Eaux is a perfect location for exploring Brittany
Rennes Saint Jacques : 1 H - Lorient : 45mn - Dinard : 2 H - Paris Orly : 4 H - Paris Roissy : 4 H 30 - Nantes International Airport : 1 H 45 (Car-Hire is easily arranged)
Roscoff, St Malo, Cherbourg, Caen
Auray, Vannes, Lorient, Rennes, Quimper, Nantes (TGV Paris/Nantes 3 H)
WELCOME TO BRITTANY

Logis de la Sabotiere
French holiday home
St Nicolas des Eaux
56930 Plumeliau
South Morbihan-Brittany-North West France